Welcome to the official website of Learn with Tridib
Hi, I am Tridib Ghosh and I am from India. I am a Certified Design Thinking Practitioner, a Visual Thinker, an Internationally recognised artist, an Amazon Best Selling Author, an avid traveller, and a food blogger (Brew-a-Web).  Learn with Tridib is a primarily a YouTube channel that will help you learn various subjects pertaining to Design Thinking, Visual Thinking, Creativity, Painting Techniques, Digital Video Creation, Digital Marketing,  Video Marketing Techniques, ClickFunnel Techniques, Photography, Writing creative content that sells and many more interesting topics. So, kindly SUBSCRIBE, like and share videos that you find interesting in the channel. Happy viewing!
Hey Guys!!!
I am giving away a complete DFY (Done For You) Visual Thinking Template that you can use in your organization, Workshops, or even at your workstation. Also, if you have subscribed to the newsletter, you get an instant notification as soon as a blog goes live. Even there are surprises for the SUBSCRIBERS at the LWT stores. What are you waiting for?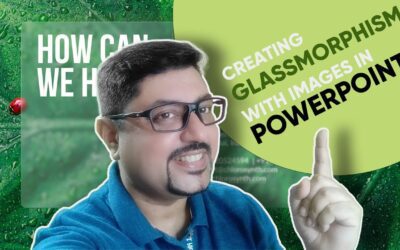 Hey guys this is Tridib and you are watching a brand new episode of Learn with Tridib. Glassmorphism is in vogue and everyone is doing at least one video in PowerPoint that teaches glassmorphism. Glassmorphism as the name suggests overlays a blurred or frosted...
read more